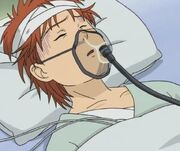 Haruhiko Tawarazaki is a sick guy who got a lot of broken bones and ruptured organs in a car accident. The 'Haru' in his name means 'spring'. His parents are very controlling and want him to take over the family business, and don't think his girlfriend was worthy of him.
He convinces Ichiro to briefly exchange bodies, so that he can go meet his lost love Kana. He then discovers that she has a daughter, Natsu.
Ad blocker interference detected!
Wikia is a free-to-use site that makes money from advertising. We have a modified experience for viewers using ad blockers

Wikia is not accessible if you've made further modifications. Remove the custom ad blocker rule(s) and the page will load as expected.