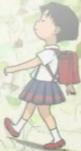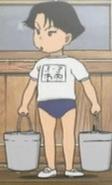 Ichimura Kei (english order Kei Ichimura) while initially seen in the ending theme of the anime, is not introduced until episode 6, where she may potentially become Souta's step-sister.
She gets mad at him for telling classmates about the interview, and he misinterprets her insult at him as criticism of his mother Miyoko.
She had a history of being a tomboy and bullying Ichiro in the past.
She lives alone with her dad, Mr. Ichimura. Her mother was a nurse and is rumoured to have eloped with a patient when she abandoned them.
Kei's friend does a lot of activities with her, such as cheerleading.
With others
Edit
Ad blocker interference detected!
Wikia is a free-to-use site that makes money from advertising. We have a modified experience for viewers using ad blockers

Wikia is not accessible if you've made further modifications. Remove the custom ad blocker rule(s) and the page will load as expected.